We guarantee you an unforgettable holiday!

On the sunny Canarian island of Lanzarote, free from the stress of mass tourism,
the perfect location for a quality of life holiday.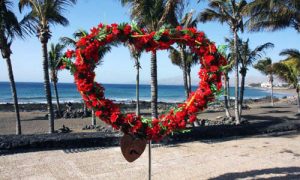 A clear wind is providing the island with the most healthy biosphere …
Unesco declaredLanzarote a Biosphere Reserve in 1993, the perfect location to enjoy life.
Situated in the north of the island, close to the Jardin de Cactus in Guatiza, Costa Teguise,
where the authenticity of Lanzarote is preserved. 
Quality, luxury, relaxing and breathtaking panoramic views are the key to an unforgettable stay.
To make it even more unforgettable… breakfast served in your resort is a supplementary possibility.
In the morning you can witness a beautiful sun-drenched sunset while enjoying breakfast with a wide view of the bright blue ocean
and the contours of palm trees surrounding the village…   
Within walking distance of your resort, you can take a dive in the ocean and also very close is the private beach with a natural ocean pool.
You like fishing… no problem just in front of the houses are very nice places
and only a few minutes away (car) there's the marvellous Costa Teguise Golf.  
Some of our unique and peaceful locations provide the privacy for naked sunbathing. 
A  place, an island, resorts you will never forget!! 
As supplementary service, you can order in advance an arrival package so you don't have to go shopping immediately.
The price is 23€ and includes eggs, bread, coffee, butter, jam, choco paste, milk, water and orange juice.
If you want additional products (in supplement) just let us know we love to do your shopping.
We're looking forward to welcome you and are convinced that once you felt the silence and beauty
of nature and the ocean, you want to stay forever!
Carina & Filip
P.S.  Our guests are very important to us and we want that your unforgettable holiday start perfectly so
we always come to the airport to welcome you, pick up your rental car, (we can offer you cars at a very interesting price)
help you with the paperwork and give you useful tips to discover this unique island.
Does this look like fun? Check out our accommodations.